Covid 19 Resources

for Businesses
Businesses play a significant role in the Stockton community. Protecting the health and safety of the City of Stockton's residents and businesses from the novel coronavirus (COVID-19) is the City's top priority as we continue to monitor and make recommendations to slow the spread of COVID-19. The City has gathered a list of assistance programs and other resources from local, state, and federal agencies: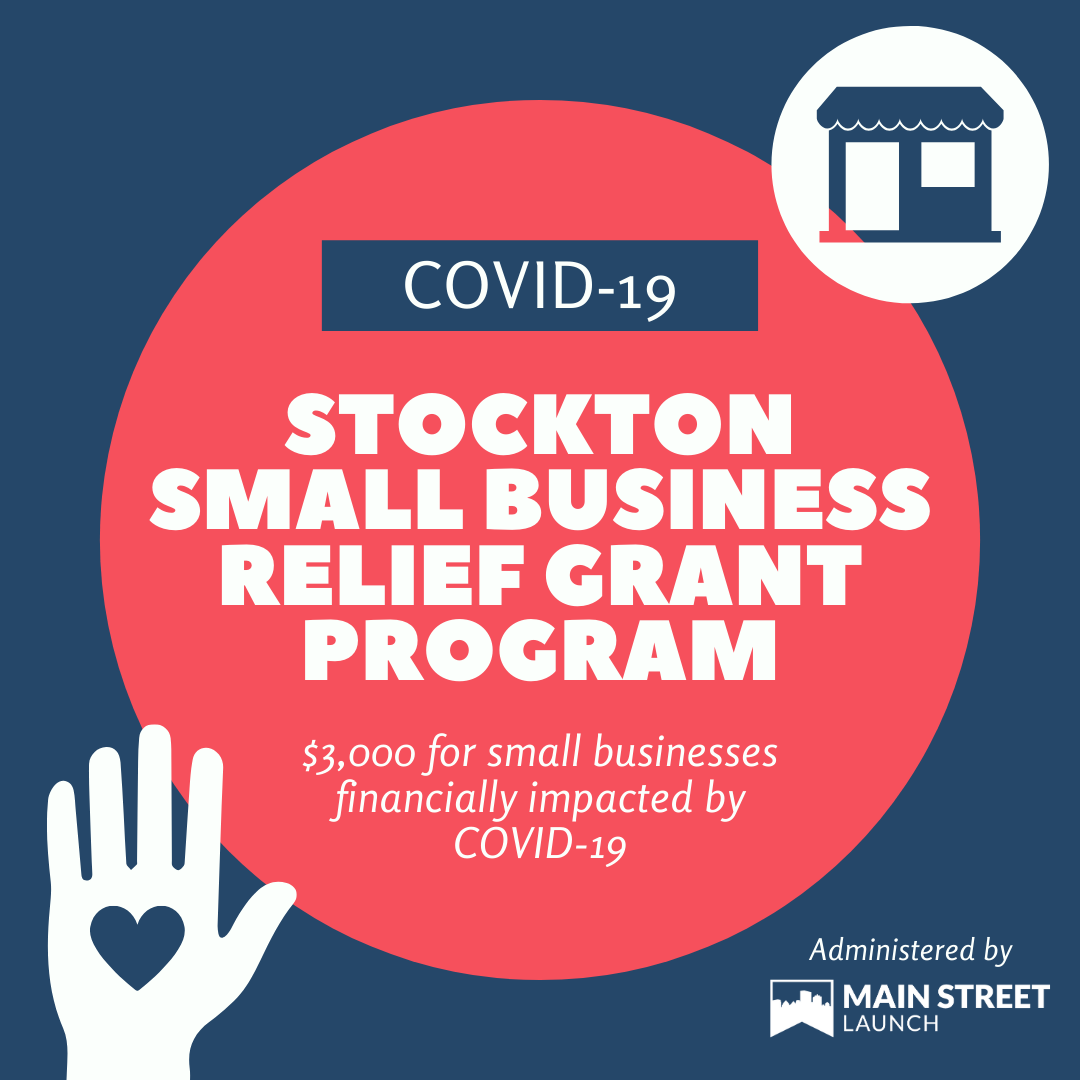 Stockton Small Business Relief Program: $3,000 grants for eligible local small businesses that can be used for inventory, working capital (e.g. rent, payroll, utilities), and/or equipment.

Due to limited funding, this program is currently closed.
Stockton COVID-19 Small Business Relief Grant Program - Frequently Asked Questions
Local Resources
City of Stockton updates and council actions
Essential Services Guide for an interactive map of local businesses and healthcare facilities offering services
Visit Stockton COVID-19 Recovery: Cleaning and Re-opening Resources for hotels, restaurants, and attractions
Dine Stockton for local restaurants offering delivery and pickup services
San Joaquin SBDC for webinars and business resources
San Joaquin County WorkNet for business and employee resources
African American Chamber of Commerce
Central Valley Asian American Chamber of Commerce
Greater Stockton Chamber of Commerce
San Joaquin County Hispanic Chamber of Commerce
United Way of San Joaquin County
Financial Support from the City of Stockton
Small Business Micro Loan Program
Financial incentives for businesses
Financial Support for Small Businesses
EDD Pandemic Unemployment Assistance for business owners, self-employed, independent contractors, and others not usually eligible for regular state UI benefits
Salesforce Care Small Business Grants for $10,000 grants for small business relief
SBA for low interest disaster loan
SBA Economic Injury Disaster Loan advance of up to $10,000. *If you applied before March 30, 2020, you can re-apply to take advantage of the advance.
SBA Paycheck Protection Program for forgivable loans for small businesses to keep employees on payroll
LISC and Verizon grants of up to $10,000 for small business relief
Access Capital for business loans
Kiva loans expanded eligibility and loan increases to $15,000
CA Infrastructure & Economic Development Bank (IBank) Small Business Loan Guarantee, Disaster Loans, & Jump Start loan program
SJC WorkNet Revolving Loan Fund for business loans
EDD Work Sharing Program for businesses seeking alternatives to layoffs
Resources While you Work
GO-Biz Website with State resources for employers and employees
EDD Website for employers who need extensions to file payroll reports or deposit state payroll taxes experiencing hardships as a result of COVID-19 may request a 60-day extension of time to file payroll reports and/or deposit state payroll taxes w/o penalty or interest.
CA Office of Small Business Advocate (SBA) to talk to specialist and connect with advisors
Open for Business Hub for a list of tech companies helping small businesses work remotely
US Chamber of Commerce with a response toolkit for businesses
CAMEO offering updated lists, resources, and trainings
Resources for Employers and Employees
Ask SBDC about information regarding state and federal support at 833-ASK-SBDC
Federal OSHA Guidance on preparing for COVID-19 in the workplace
CA Employment Development Department website with resources for workers & employers
Guidance for Businesses & Employers from the SBA
CA Labor & Workforce Development Agency with Information for Workers & Employers
IRS Guidelines on Tax Relief during the Coronavirus outbreak
CDCs Resources for Managing Stress and Anxiety
10 Reasons to Stay Calm from The Conversation
Interim Guidance from the CDC for Businesses & Employers
Postmates has offered a Small Business Relief Pilot for restaurants transitioning to take out options
8-Point Plan for Restaurants & Hospitality Employers